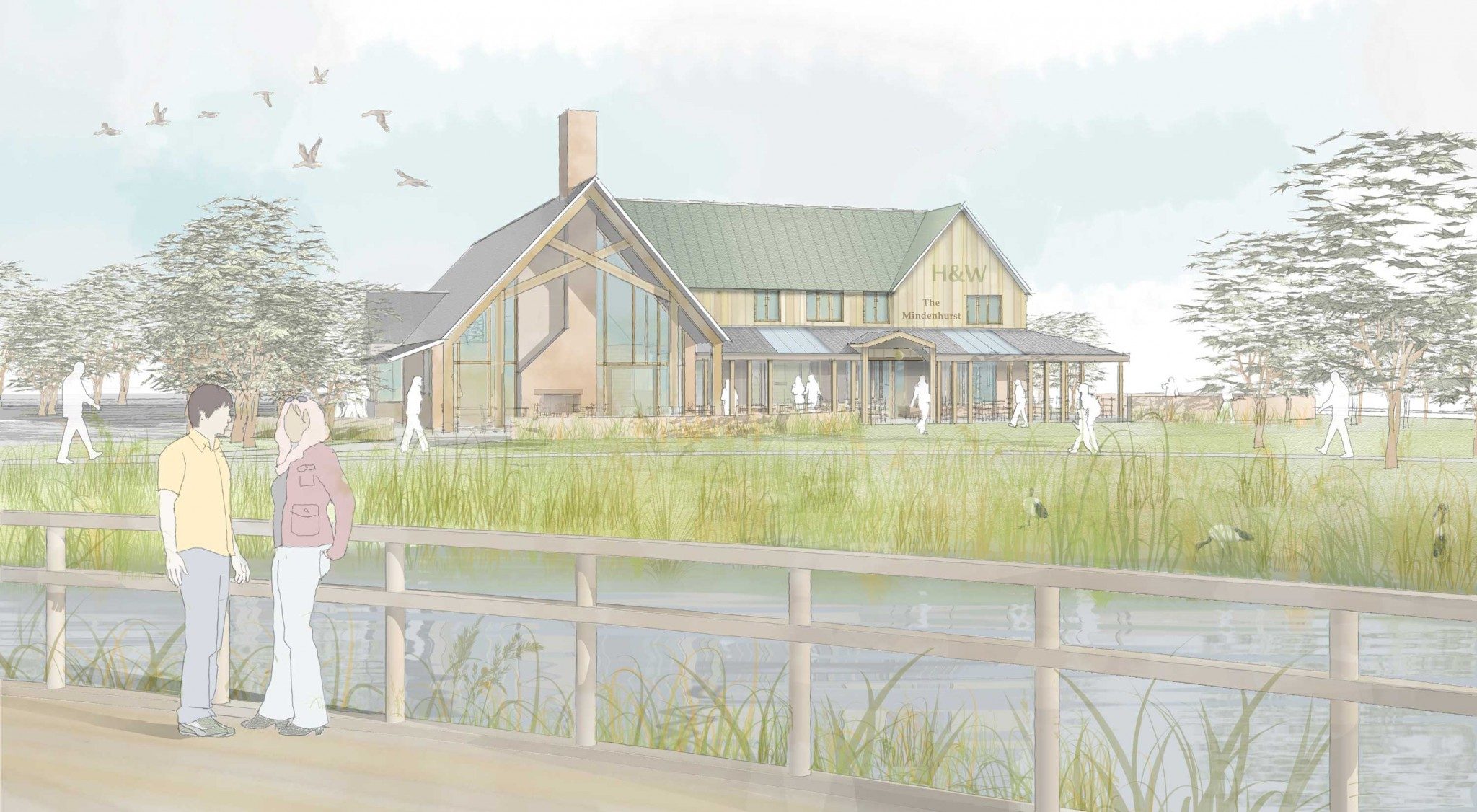 New pubs at the heart of placemaking
Not since the years of mass post war construction has this county been engaged in the building of new pubs. As the country tries to solve the current housing shortage by building new communities they, in turn, need new community pubs, which have an increasing role to play as the anchor and catalyst for community cohesion and genuine placemaking.
The last few months have given us a stark reminder of the importance of pubs as a social facility that naturally and quickly creates a focus for residential and business communities. We also know that pubs must also extend a welcome to a wider, more inclusive demographic including families, the elderly and non-drinkers, with more flexible opening hours – and all without losing their essential character as one of Britain's most enduring institutions, both for its social as well as economic value.
We have been working hand-in-hand with developers to ensure that pubs remain at the heart of authentic placemaking. With Hall & Woodhouse, we have developed a portfolio of new pubs, designed to form the centre of new communities within residential developments of expanding towns in areas such as Dorset, Swindon, Exeter, Basingstoke and Portishead.
Mindenhurst
Mindenhurst Village is a new residential area of 2500 homes; a contemporary interpretation of a rural Surrey heath-land village.  Alongside the existing church, school and village green, a new village pub will be essential in helping developer Skanska achieve its objective to create "a balanced sustainable village with a strong heart, and one that is integrated into the existing community of Deepcut".
The pub, overlooking the village green and pond, has a public and civic role to play acting as a catalyst for the development of the new community and for the social and business life of the village and surrounding areas.
The concept for the pub is of a 'farmhouse with an attached barn' in the vernacular style of the rural area, a model which offers great flexibility. Dividing the building into two distinct elements helps create a more domestic architectural scale most often associated with the public house. Gables and chimney stacks will signify a roaring fire and a warm welcome.
Our design features all the traditional pub elements of bar, den, pantry, dining room, terrace and garden, alongside a double-sided fireplace that articulates a tall glazed gable at the west end of the building. The barn roof will extend out over external seating, with an outside fireplace to offer a year-round amenity for everybody. Corrugated tin will reference the nearby church, a Grade 2 listed example of a prefabricated "tin tabernacle" built in 1901 which also houses historic memorabilia from the many regiments garrisoned at the Deepcut and Blackdown garrisons.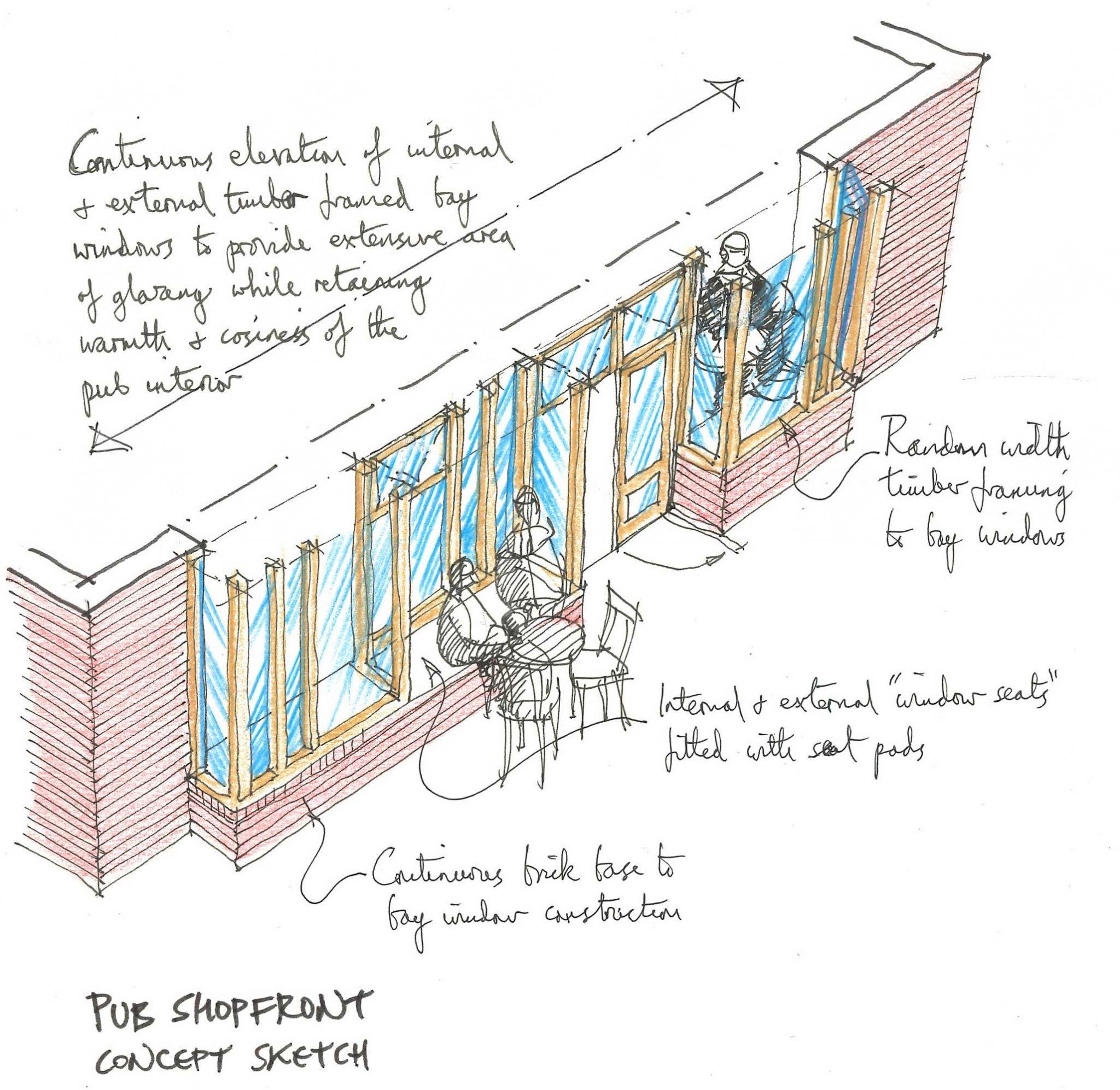 Crowthorne
Crowthorne is a new community development by Legal and General Homes comprising 1000 new homes, a primary school, neighbourhood centre, and community facilities.
Based on contemporary placemaking principles, the objectives for this new community include a strong local identity and a clearly identifiable character, drawn from Crowthorne's heritage, its rich woodland setting and its history as a former TRL site. Our contextual design reinterprets the traditional qualities of the surrounding farmhouses in a contemporary way which will appeal to the 'Grand Designs' generation.
Crowthorne's new all-day bar will be an anchor for the development and an exemplar of its placemaking principles. Our concept is to create a building that 'glows like a firefly in the night', drawing in visitors from the newly built housing and beyond.
New public open spaces will encourage community activity as well as benefit the environment. An attractive landscaped setting will include a variety of external areas for drinking, dining and social uses, and will include a beautifully planted walled English Tea Garden. Sheltered and covered spaces promote their use over as long a "season" as possible.
Taplow, Maidenhead
Taplow, a new bar in an historic riverside setting, will provide an all-day, all weather venue to support the newly developed St Regis Papermill area and provide a social and focus for a growing community.
The bar's design will highlight its setting, evoking memories of sunny days by the river messing about in boats, and will facilitate connectivity to and across the river.
Its design responds to modern living and socialising habits with sprawling, landscaped external areas which will stimulate and support traditional riverside uses to reanimate the waterside.
A boatyard aesthetic is reflected in a light timber structure, set on a brick -base with a zinc roof, and helps to create a real sense of place with a tangible connection to the distinctive and colourful history of an evolving community.